I didn't have a chance to write it yesterday, so tonight is my weekly mind purge.
- Wow, last Monday was one of those days where I got a ridiculous amount of tasks done in a few hours. I also got my taxes done that afternoon; seems like I'll be getting nearly $1,700 back. That's gonna be sweet.
- Tuesday was a challenging day. I was really discouraged that day - more discouraged than I had been in a long time. So discouraged that I didn't want to go to staff meeting (which if you know me, is one of my favorite events of the week). I fought through and prayed through, and we ended up having a good meeting, with some good honest discussion and clarification of some important things we needed to clarify in light of everything we're facing as a local church. I left that meeting feeling much better, and refreshed after being around my fellow staff members.
- Walter, Troy, myself, and a couple of our church councilmen, along with another pastor, spent almost the whole day in Juarez. It was a pretty interesting experience, and I think we've got a pretty good insight of what's going on in the Church in Juarez now. God is definitely up to something in the Church in Juarez. Then we came back around 3:30 pm and I quickly got some things ready for our launch team meeting that night. I hope our launch team meetings are something that the team sees as beneficial; I think they are.
- On Thursday, I spent most of the day at the office, except for a 2 hour block around lunch, where I went to First Baptist Church to meet with several other pastors from the El Paso Baptist Association. It was great to be with my fellow Baptist pastors, in historic First Baptist Church, where one of my favorite places in El Paso is - the heritage room of FBC El Paso: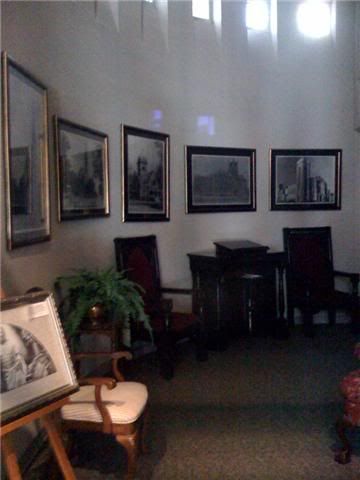 See, if you know me, you know I'm proud to be a Baptist, proud to be a Southern Baptist at that, and proud to be a Texas Baptist, and proud to be an El Paso Baptist. In that heritage room at FBC El Paso, there's a pictorial, chronological history of Baptist history in El Paso. This man below, George W. Baines, Jr., brought the Baptist faith here to our great city: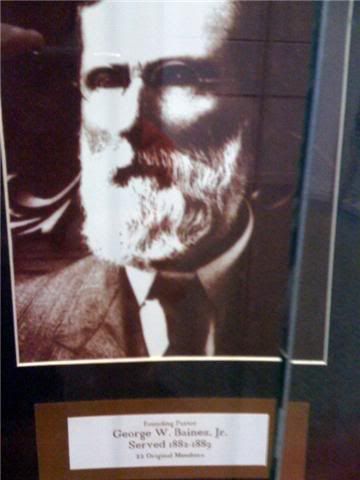 - Friday was my day off. I rested - all day. I literally spent most of the day on the couch watching a movie, napping, and just letting my body relax after a very tense week.
- After a nice, long day of rest on Friday, I spent most of Saturday working in the yard, cleaning my car, and doing other things that I needed to get done. And boy did I regret that the next morning, because I was so sore. I guess I'm not as young as I used to be. =)
- On Sunday, I went to first service and saw Savannah Reed get baptized. Man, I've been waiting so long for her to be baptized! Then I hung around the cafe during second service and read some in a book, then had a good lunch meeting with some friends, then went to the hospital to visit Debbie Abascal and her family, then went out to the Pryors and spent the rest of the evening there with them, celebrating Leah's birthday.
- And today, well I went into the office for a little, then went and volunteered at Wayside during lunch (which is always fun), then went to the Northeast to check out a couple of things, then went to the office and worked mainly on the ministry plan for the Northeast campus. I'm ALMOST done with it! Woo! Then tonight we had GrowGroup at Troy's and then I came home and started writing this blog.
And now, we're in a whole new week and I'm sure many adventures lay ahead!