- Monday was Memorial Day. It was nice to not have to go to work, but to be able to sleep in a little and then spend the day with some friends at the El Paso Zoo: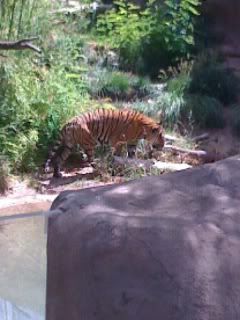 (Pic link: http://img.photobucket.com/albums/v606/arielmz/IMG_0747.jpg)

We spent all day there, then afterwards I went to visit my grandpa's grave site and thank him for serving our great country: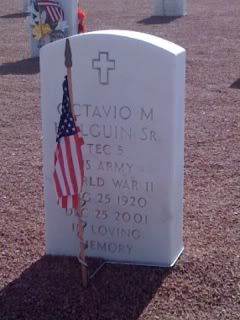 (Pic link: http://img.photobucket.com/albums/v606/arielmz/IMG_0774.jpg)

- So because Monday was a day off, Tuesday felt a LOT like a Monday. It was weird. I spent the morning at the office, then went to work over at The Bagel Shop in the Northeast for the afternoon, then went to study at Starbucks for awhile when The Bagel Shop closed for the day.

- The Northeast is really starting to grow on me, and I'm really beginning to get to know the roads there pretty well.

- On Wednesday, I worked until about 1:30 at the office, then went to Sam Chatterton Sr.'s funeral and the grave site service which went from 2 to 4:30 pm. It was AMAZING to walk into that church and see it packed full of hundreds of people, so many so that there were people standing around, and the line of cars driving out to the cemetery looked to be several miles long. It must've been so comforting to the family to see so many people there who loved and respected Mr. Chatterton.

- Afterwards, I went back to the office and stayed all night since we had a launch team meeting that evening.

- Thursday was a weird day. I had meetings ALL day, from first thing in the morning lasting until about 3 pm, so I didn't even get to do any work until a little after 3 pm. I was by Bassett when my last meeting ended, so I just went to Starbucks in the Northeast and worked there for a couple of hours, then came home.

- On Friday, I slept in (of course, since it's my day off) then had lunch and ran some errands. I also spent awhile at the Cliett's home, hanging out with Tom and Kim and Kayla and talking about their future. Tom finally found a job, but it's in Dallas and it starts tomorrow, so Tom and Kayla left that afternoon for Dallas. Kim and Terra and Alissa will be moving to the Big D after school gets out in a couple of weeks.

- I'm REALLY gonna miss the Clietts. I've gone through a lot with Tom and Kim, prayed a lot for them and for those beautiful girls of theirs, and they've been good friends to me. I'm really, truly gonna miss them but it's not a "goodbye", it's more of a "see you later" because I know I'll see them from time to time whenever I make my way over to that side of the state.

- After saying goodbye to Tom and Kayla, I went home, watched a movie, then went to go hang out with the youth for a little while since they were getting ready for their yard sale on Saturday.

- I ended up sleeping in late again on Saturday, because I had just been so tired all week. After I got up, I did my stretches (my muscles get very tense and tight after sleeping) then did some work on my computer for awhile, and finally got around to showering around 3 pm. After that I ran some more errands that I didn't get to on Friday and came home and watched another movie, then went to bed.

- This morning was interesting. I enjoyed Craig's music selection for this morning and I think it was good timing for Walter's message about getting out of being stuck in dullness. I went to the 9:30 am worship celebration service, then sat in the lobby during the 11 am worship celebration service. It was an interesting day, and I could tell that the Lord was truly working in people's hearts this morning - there were people who stayed behind long after we finished up, dealing with God individually or praying with friends and family, and there were people crying before the message, during the music.

- It's amazing how music has such power in our lives.

- Sometimes I really take on the load of other people's pain, hurting with them when they hurt, and it wears me out. Today was one of those days hurting with people, praying for them, and encouraging them so I was wiped out by lunch time. I went to lunch with the Pryors and one of their interns, then came home and napped, then got up and spent the evening doing the front lawn.

- I REALLY enjoyed working on the lawn this evening. I'm looking forward to doing the back yard tomorrow evening.