- Monday was a stinkin busy day! As usual, I went into the office in the morning, went to Wayside at lunch, then went to have lunch and work most of the afternoon at The Bagel Shop in the Northeast. Also, I started running again that morning.
- I spent a lot of time thinking through processes for a portable church, like how to baptize in a portable environment or how to do communion, how to do parent/baby dedication, graduate recognition, etc. I also updated the list of potential volunteers, got some feedback from First Wednesday the week before, and setup some meetings throughout the week.
- Tuesday morning I went running again, but this time I was about a mile from home and I felt this pop, then a very sharp, burning pain in my knee. I somehow made it home, showered up, went to the office with an ice pack on my knee, and ended up spending the afternoon at the doctor because I was in SO much pain! So naturally, I didn't get much work done that day.
- The doctor said I had probably hurt some meniscus cartilage in the my right knee and he sent me to get x rays, get crutches, ice my knee down and take LOTS of pain killers. So I basically spent Tuesday in agony.
- Wednesday morning I woke up in incredible pain but managed to get up and get ready, get into the office, then go get the x rays done on my knee. After that I went back to the office and stayed a little late because I had gotten so far behind from losing most of my day on Tuesday. I was able to go home for a little bit to rest and freshen up, then went back to Del Sol's East campus for our launch team meeting.
- I REALLY enjoyed our launch team meeting on Wednesday. We started out laughing and joking and giving each other a hard time, then shared a bunch of wins, took some time studying/being convicted by the Word, praying, and talking through some details. It felt like everyone there was in a good mood, so it was a good time together. We did miss having Alicia with us though.
- I was on crutches from Tuesday through Thursday. It's not fun being on crutches, and it's a big blow to your pride to have to ask people to help you with EVERYTHING (carrying stuff, opening doors, etc.) when you're on crutches.
- On Thursday I spent the morning in the office, then met with my accountability partner, then went back to the office. Last weekend I spent some time alone with God in Ruidoso and He showed me some things I needed to change and some areas where I was slacking off and letting sin run rampant so when I met with my accountability partner, I asked him to really hold me to some things that I needed to change and to ask me how I'm doing in those areas. That was definitely not easy to do, and was honestly pretty scary to do, but I feel SO free after confessing my sin and asking for accountability.
- On Friday I took some time to rest. This week was brutal on me and I was feeling pretty beat up, so I was glad to have the time to rest. I stayed at home most of the day and then went to our graduate dinner that evening. It was good to be around some of the people I love and to see those graduates and think back on how I've watched so many of them grow.
- I slept in a bit on Saturday, then woke up and spent most of the day working with my dad to assemble a patio set that my brothers and I had all pitched in to buy for my mom for Mother's Day. I must say, I'm pretty please with it (though our dog, Bob Barker, was really confused by it as you can see by the look on his face):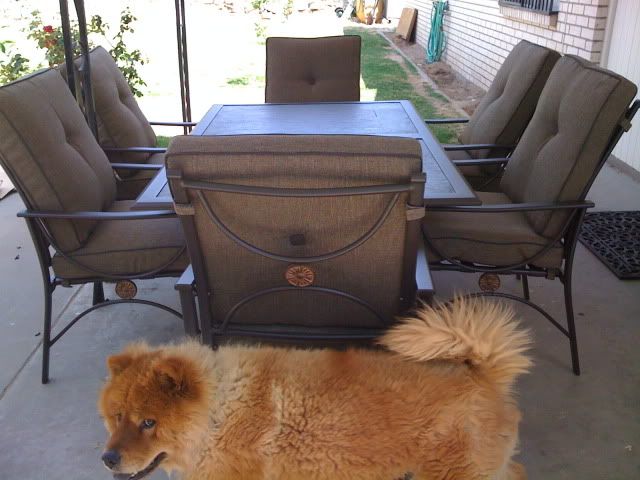 - Afterwards, I cleaned up and went to Abundant Living Faith Center for their Saturday night service. I hadn't been there in a couple of months and it was a great message to come back to. The pastor, Charles Nieman, was in the middle of a series called "Fearless" and he was talking about Benaiah, who struck down two mighty Moabite warriors, struck down a 7+ foot tall Egyptian fighter and killed him with his own 200 lb spear, got down in a pit on a snowy day and fought a lion barehanded, killing that lion. It was just the right timing for where I'm at in life.
- This morning we had our graduate recognition and Walter talked about Heaven. I'm still chewing on my experience from this morning but let's just say I cried a lot and I can hardly wait 'til the day I get to go Home to Heaven and be with Papa God forever!
- Then I had a lunch meeting change so I went to have lunch with the Pryors, then went to a goodbye party for a couple of our youth. After that I came home, read some blogs online, went to Walmart (BIG mistake on a Sunday evening), and now it's time for bed ...