What a week! No rest for the weary, as they say.
- I ended up taking Monday off to rest after last weekend. It was the first day off in about 9 days for me. I went to see my doctor in the afternoon and found out
the results of my blood tests
. Nothing too major, but I am having to make some minor life changes.
- We also did some major Christ-mas decorating at the church and at the Firehouse on Monday. The campus is looking good!
- Tuesday I had some meetings, then did some finishing touches with a few youth at the Firehouse, and delivered Thanksgiving baskets in the evening with our youth: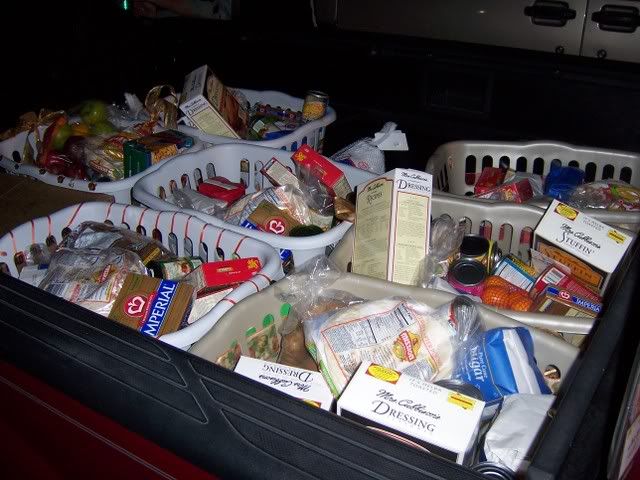 As always, it was an AWESOME, humbling, fun experience!
- Wednesday I spent most of the day at the office, getting ready for the BIG exciting good news this morning. Also on Wednesday night, one of my brothers came in town for a few days, which was really nice since it'd been nearly half a year since he'd been here.
- Thursday was Thanksgiving day. It was a nice
simple day at home
.
- Friday I spent almost the whole day in Mexico with the Pryor family and a team that had come in from Colorado to do missions work in Juarez. I was kind of nervous at first since I hadn't been to Juarez in so long - and then when our bus was pulled over at the bridge and we had to get out for a search, well that made me a little more nervous. But we got through it, and we made our way to the mission site.
Boy was it windy and sandy! But we invested our day there serving people, loving them, and giving the kids Christ-mas gifts. It was so cool, we ran out of food but we had some leftovers from the previous day and right when we ran out of the last parts of the leftovers and used the last plates and napkins, we served the last person. It was a lot like the story where Jesus used the fish and loaves to feed the thousands: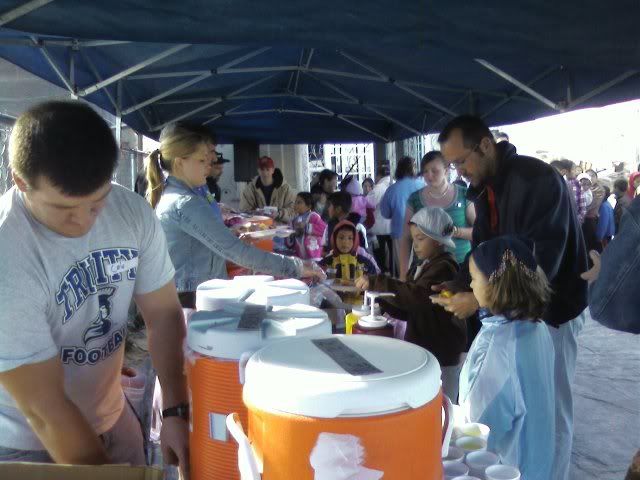 I really enjoyed my day, and it was pretty cool getting to know little Sarah Pryor more when she opened up to me a little on the trip. I absolutely love being with the Pryors, but man do they know how to wear a person out!
- Yesterday I slept in past 8 am for the first time in a couple of weeks. THAT was really nice. Then I went for a nice long run, which I hadn't done in a few days. That was REALLY nice. I honestly don't remember what I did throughout the day, but I do know I went to Walmart in the evening and did some shopping and got some new lights for the Christ-mas tree.
- Today ...well ...let's just say it was not the easiest day for me. I do feel relieved though because I was finally able to break the good news: starting in January, I will begin transitioning out of the youth ministry into our multi-site ministry endeavor. As awesome as this news is and as excited as I am about it, that was one of the hardest things I've ever had to do.
When the time came around to begin our 9:30 am gathering, I was trembling and really nervous. I just shared my story, shared my heart, talked about what this is and what it isn't, and talked about what this will look like and how to pray during this time. After that, Troy said a few words and had everyone surround me to pray for me. That was a really cool time - as I felt the weight of all those hands on me, I felt like God was saying that as heavy as the weight is of my new responsibilities, even heavier is the weight of the love and support I have.
It's surreal though; it's hitting me now and it's finally beginning to feel like this is really real. So I'm scared, but confident. Nervous, yet secure. Sad, yet at peace. This really is a good thing, and I'm so excited to see how God's gonna use Troy in this time, and I pray that the Lord does even greater things than we've seen before after I complete my transition into my new ministry responsibilities.
If you were there this morning, remember this is not a bad thing, and this is NOT me leaving. Remember our mission, and remember that this is simply me being obedient to the Father.
- After our gatherings, I went to lunch with Kayla, David, and Leah Pryor, Stephen, and Marissa and Jonathan. We were there at Wendy's for like 3 hours, then I took them back to the Firehouse and came home. I didn't get to nap today, but I did get to finish decorating my main Christ-mas tree. In addition to the decorations, there's about 700 lights (though you can't see them all in this pic):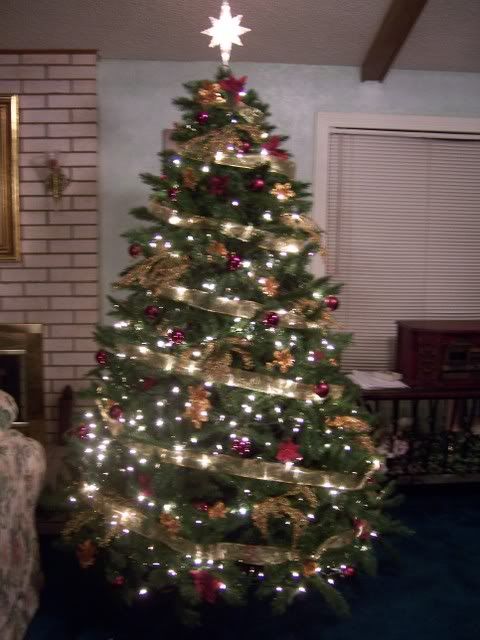 I might end up getting some large pearl baubles to contrast and sparkle a bit more, but we'll have to see how my week goes.
- Now I'm ready for bed ...so, goodnight!