"

Love God, Love People, and Serve the World

" - that's the brief version of Del Sol Church's mission statement; Serving the World is something we're particularly passionate about.
This morning I walked into the Del Sol Church building and saw this: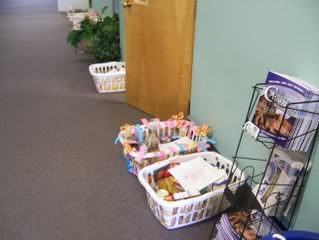 Those are Thanksgiving food baskets lining the hallway. Then I walked into L-1 (one of our large gathering rooms) and saw this: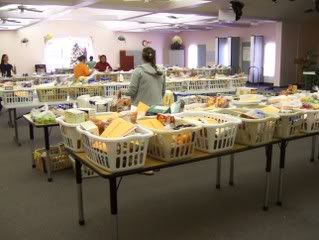 There were a group of youth and adults working on sorting food and organizing Thanksgiving food baskets for the less fortunate in our community.


Last year we delivered around 80 baskets; this year, we have 106 to deliver tomorrow.


106!!!


That's 106 families who probably would not have had a Thanksgiving meal if it weren't for the incredible people of my Del Sol Church family coming together to sacrifice for others by donating the food for these 106 food baskets.


Each food basket has flour, sugar, canned vegetables, canned pie filling, butter, eggs, fresh fruit, potatoes, stuffing, and other basics for a Thanksgiving meal for a family - all donated by the members of the Del Sol Church family.


I can't even imagine how many hundreds of dollars (maybe thousands?) that has been invested in buying the food items for these 106 baskets. All we do as a church organization is buy turkeys and then the youth ministry and GrowGroups will deliver these baskets just in time for the families to make their meals.


I'm humbled to be in leadership over people who would give of their money and time to supply 106 families with food for Thanksgiving.


106. Wow!





The mission of Del Sol Church is to lead people into a growing relationship with Jesus Christ by creating environments that encourage and equip participants to Love God, Love People, and Serve the World.