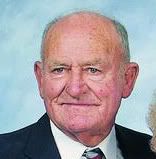 "John C. Barnett, 80, passed away January 1st [2008]. He was a WWII veteran who served in the Navy in the Pacific Theater. He is survived by his wife Betty, of 60 years, his sons Michael and Rick, and his grandson Aaron. Memorial services will be held at 10am Friday the 5th at Vista del Sol Baptist Church. In lieu of flowers Mr. Barnett requested that donations be made, in his name, to the missionary service JAARS Inc., P.O. Box 248, Waxhaw, N.C., 28173."
That's Mr. John's obituary and today has been a year since he passed away. I have his obituary laminated and I keep it in a place where I can see it everyday because it's a reminder to me of what a man of God looks like. Mr. John is the kind of man that I yearn to be.
Mr. John Barnett was a man of God, a man of integrity, a man of honesty, a man of skill, a friendly man who made everyone feel welcome. More than anything, if I could describe Mr. John in one word, it would be "servant." I had known Mr. John for about 8 years and I never saw him do anything but serve God and serve others. He was a servant even to the end, donating his body to be used for scientific research.
In his last days, we were in the process of many changes, the biggest being changing our name from Vista del Sol Baptist Church to simply Del Sol Church. For awhile, he was against this decision - and he was on our church council so he could have made a big deal about it and he was so respected that people would have listened to his opinion ...but he didn't. Just a few days before he went Home to be with the Lord, Walter went to visit him in the hospital and they talked for awhile, but then Mr. John got very serious, looked Walter right in the eyes, and started weeping as he apologized for being in the way of what God is doing. This man ...oh gosh I'm getting choked up just thinking about it ... this man never wanted to be in the way of God. He was a man of integrity, he was a servant, he was faithful.
A few days ago I wrote about how
my greatest fear
is that when I face God, I would not be found faithful. Well everyday I see this obituary card and I remember Mr. John, and I remember his example of what it means to be faithful to the Lord, faithful to one woman for life, and faithful to a church no matter what. I remember him and I know what it means to be a man of integrity and what it means to be a servant.
So Mr. John, I miss you - but thanks for the legacy. You've not only impacted your family and left a great example for your sons and grandson, but you've impacted this young leader even a year after you went Home to Jesus.
I look forward to seeing you again and personally thanking you when I go Home.
"Blessed is the man who does not walk in the counsel of the wicked or stand in the way of sinners or sit in the seat of mockers. But his delight is in the law of the LORD, and on his law he meditates day and night. He is like a tree planted by streams of water, which yields its fruit in season and whose leaf does not wither. Whatever he does prospers." - Psalm 1:1-3 NIV