Today's Friday Five - Five famous people I've met:

1. Former President George W. Bush. When he was running for Governor of the Greatest State of Texas in 1994, my family was a big supporter of his and we campaigned hard for him. He made a campaign stop here in El Paso and I had the privilege of meeting him and shaking his hand. I wish I had a picture of that and I wish could download that time from my mind and show it to you because it was awesome! I'm fully convinced that had I not campaigned for him, he wouldn't have become governor and wouldn't have eventually become President of this great country. Thus, he wouldn't have become President if it weren't for me. =)

I kid, of course.

2. David Crowder. Back in May 2007 I went to a conference at North Point Church in the Atlanta area and one of the lead worshippers was David Crowder and the David Crowder Band. After his time leading worship through music, another group took over to lead the music and he along with his band walked off the stage and served communion. That was awesome to see the humility of such a big name Christian musician. Later on I met him while my friend John David was talking with him in the hallway and then I had a pic taken with him after they did a show that night: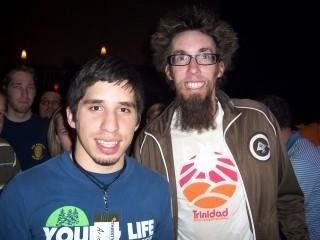 3. Bill Hybels. In April of this year, Rick, Kristin, and I went to a conference in the Chicago area and we went to Willow Creek Community Church's Saturday night worship service. Afterwards, I went up to talk to Bill Hybels and thank him for his passion for the local church and for what he's done to help encourage and equip young leaders like myself. That was so awesome and humbling to meet him - I just love his passion for the lost and his passion for the Church.

4. Randy Phillips from the Christian music group Phillips, Craig, and Dean. It was the day after Thanksgiving in 2006, I believe, when myself and a few others from the church went to Juarez work with dozens of other people from throughout the United States to partner with the Hands of Luke ministry and feed 10,000 meals to people in the colonias of Juarez. Our group was small, I think just 4 of us, so we were put with a church from Austin, Texas named PromiseLand Church. At the time, Randy Phillips was an associate pastor there; now he's a pastor of their second location, PromiseLand West in west Austin. It was pretty cool serving alongside him and his church to feed the people of Juarez, Mexico.

5. You. Who knows what the Lord will do and how he'll use you?! You've got potential to do incredible things, from being famous lawyers, doctors, and politicians to being famous pastors, missionaries, artists, and scientists. Even if you don't become famous by society's standards, you're famous to me; I'm glad to have known you and I'm excited to see what you'll become.



Have you ever met anyone famous?