- Monday morning I went into the office for a little while, then volunteered at Wayside, then went to work at The Bagel Shop in the Northeast for a few hours. After that, I had an impromptu meeting with a someone who might attend the NE campus this fall, then ended up driving around the neighborhoods of the Northeast for awhile before coming home to relax a bit.
- I was at the office pretty much all day on Tuesday - 'til about 6 pm - and then came home to help my dad setup the AC's since it was supposed to be in the low 90's on Wednesday. I had
a little incident
happen that kind of slowed me down the rest of the week; an incident which I'm still recovering from today.
- On Tuesday, I found out that the church council shifted some budget designations in such a way that we had about $20,000 made immediately available for the NE campus startup costs, and another $15,000 or so available in the coming months.
- On Wednesday, I spent another day being at the church building literally all day. I did have a GREAT and very informative/thought provoking phone conversation with Chris Mavity from North Coast Church in Vista, California about multi-venue and multi-site churches. I also talked with the Principal of Dr. Nixon Elementary and found that there's just no way we'll be able to use classrooms for kids' ministry there; so, we'll have to find a way around it and make do with what's available. As Craig Groeschel said, "sometimes God guides by what He doesn't provide."
- Because of my fall on Tuesday afternoon and how the pain really tired me out and slowed me down, I didn't have the chance to post a NE campus update on Wednesday. Sorry!
- I went running again on Thursday, and it was a pretty painful experience for me. I think I'll be running with a knee brace for awhile.
- Thursday was also a day of working and mentally resting; I went out of the office for a lunch by myself so I could just gather my thoughts, then meet with my accountability/encouragement partner at Bux afterwards. Then I went back to the office for a bit and was trying to get some work done, but was pleasantly distracted by several guests to my office before I had to head home. I also did something Thursday evening, but I forget what it was; you forget things when you get to be my age. =)
- Friday was a typical Friday lately: supposed to be restful, but not really. I did get a new stereo installed in my CRV so now I can listen to my ipod once again. And our youth did an INCREDIBLE job putting on their annual dinner theater and silent auction fundraiser that evening. I enjoyed just being in the audience (instead of running around backstage), watching the show with Josh & Nicki and the Pryors. Here's a pic from the finale, with all the youth who took part in the production: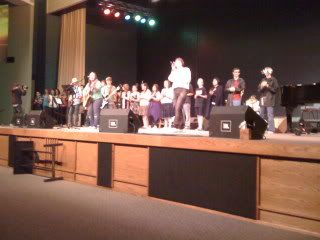 - I spend most of Saturday cleaning out my car, my parents cars, and doing some other chores around the casa before cleaning up and spending the evening at a surprise birthday party for a friend. My friend is a big fan of horses, thus the wicked awesome horse-shaped cupcakes: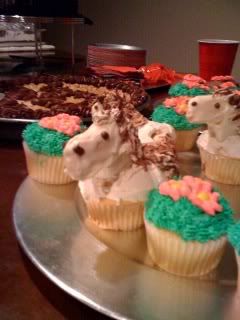 - This morning was interesting; I attended part of the first worship celebration at Del Sol, then jetted to go to Paseo Christian Church to see someone lead the worship through music (but then found they had to cancel last minute), so then I stayed for awhile and then went back to Del Sol and caught the last part of 11 am worship celebration. At the every end, Walter had several soldiers in full dress uniform come on stage and we prayed for them as they prepare to deploy this week. I'm not gonna lie - I started cried tears of gratitude for those soldiers and their families. If there is one thing that just messes me up, it's thinking of our amazing military people who sacrifice SO much for you and for me.
- Afterwards, Rick and Kristin and I went to Corner Bakery Cafe (which has AWESOME customer service and great food) and we saw those soldiers that were on stage at Del Sol's East campus. I tried to pay for their food, but their commander wouldn't let me; instead, he tried to buy my lunch! It was mind blowing! This man - who has lived a life of utter sacrifice for me, and who has many times laid his life down on the line and risked dying for me, and who is about to go again to Iraq to defend our freedom - wants to pay for my lunch!!! This is the man who just minutes earlier on stage at Del Sol's East campus clapped for us regular Americans and thanked us for our support. Crazy. What in an incredibly selfless servant he is!
- And then this afternoon, the highlight of my week and the highlight of my month happened: I had the privilege of visiting my dear friend Debbie Abascal in the rehab hospital she's currently at. I hadn't seen her in a couple of weeks and though I had heard about her improvements, I desperately wanted to see her for myself. They wheeled her out of her room to the waiting area and she stuck out both her arms towards me in a "give me a hug" motion, which was a good sign because it meant she remembered me!
I ended up being with her and a few others visiting with her for about 2 hours, and she taught me how to play Skip Bo - and she beat us all at it(trust me, we weren't letting her win either!). After the game, we could all tell she was getting pretty tired so we walked her back to her room, talked a few minutes with her, and then I gave her a hug and told her I was so glad to see her. It was WONDERFUL to see her and I hope I'll be able to visit her again sometime this week.