- Monday ...a day that will live in infamy. Well, not really - but it was pretty cool; I worked on a leadership development and reproduction system for a presentation to staff meeting on Tuesday. I think I learned a lot more about the leadership pipeline we're looking at emulating, and I think that I helped the rest of the staff understand the amazing possibilities if we constantly raise up new leaders.
- I spent most of Tuesday at the office, since we had staff meeting. I had a great but brief meeting on Tuesday night with a potential kids' ministry director for the NE campus. After that I went to a couple of stores and started looking for a new stereo for my CRV.
- For some reason, I was pretty discouraged most of Monday and Tuesday. Dang spiritual warfare ...
- Wednesday was a pretty cool day. I spent the morning at the office, then went to The Bagel Shop in the Northeast to study some, and I got to meet a couple of people from the neighborhood there. I was able to get a lot done in just a couple of hours there. On Wednesday night, I had the privilege of sharing my health & fitness story with a ladies GrowGroup, then had our launch team meeting (with a new team member - shout out to Alicia!).
- Lately I've been sensing a wave of discouragement among the Christian community in El Paso, and in some of our team members, so I tried to encourage the team a bit by remind them that the same power that raised Christ from the dead lives in us, and so we, in Christ, are overcomers and conquerors over worry and frustration and discouragement.
- I had a great lunch meeting on Thursday with a friend who is considering joining the launch team. Afterwards, I met with Craig (our worship pastor at the East campus) and looked at some equipment we've got that we might could use at the NE campus. After that, I did some more work at the office, put together a brief presentation for the church council, and then went to Walmart and did some shopping for some wares. And then, Village Inn with Rick, Kristin, and Alicia afterwards!
- Friday. My day off. That means the only day I get to sleep in. And my day to have Peter Piper Pizza's lunch buffet. And I also watched "The Day The Earth Stood Still" with Keanu Reeves, which I thought was pretty good.
- Yesterday we had a half-day CPR training at the East campus. It wasn't mandatory for me, but I wanted to go so that I could become trained in CPR, just in case I ever need it. I must say, it was really interesting and educational and tiring. Afterwards, I came home and took a nap, then went for a really long run on a new route, then cleaned out my car and showered up and got me some dinner. After all that, I watched "Doubt", which I can only describe as gripping. I definitely recommend that movie!
- Oh goodness, there's not much better than driving around in a freshly cleaned car: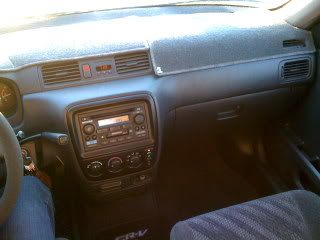 - This morning I went to
First Baptist Church El Paso
for their "contemporary service" at 9 am. First is a very important church in the El Paso Baptist community; they're a symbol of sorts of how God has been at work in El Paso for a long time and how He has blessed the Church in El Paso over the centuries. It's such a beautiful facility there, and it feels so great to be there in the place where we as Baptists got our start in this great city.
It was also really sad, because you walk into this big, grand facility and its apparent that it used to be packed full of people, but now it's sparsely populated, is pretty much inward focused, and is in serious decline.
I literally almost cried when there I was, in the auditorium of First Baptist Church, singing "God Of This City" and dreaming about the impact FBC could be having in El Paso.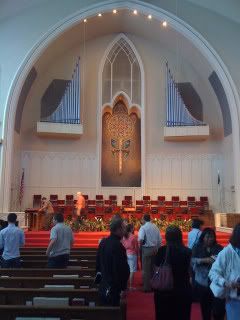 Oh Lord, please revive that church! She can't die - she just can't! There's no way satan can have that win, there's no way he can take that ground. Lord awaken that church and let her be the beacon for You that she once was and could be once again.
- After that, I went over to Del Sol's East campus and attended the 11:00 am worship celebration. Walter's message was pretty inspirational and I left pumped up to seize the day and live my life, everyday like it was my last - because who knows, it just might be. Then I came home, had lunch, and tried to nap but wasn't too successful since my parents decided to go outside and do some gardening while I tried to nap.
It was cool hearing them interact as they worked, and then sat down together afterwards and enjoyed their work and talked about what it'll be like when the fruit trees bloom and the vegetables are ready to be picked, and planned to lounge out there and have cookouts and stuff. I'm really glad they're working on the yard and are taking pride in their land. It's pretty cool. =)