So awhile back I learned that my cell phone's camera actually takes some pretty good pics. This week, I decided to start taking pics of some of my daily experiences; thus, a picture blog:
On Tuesday, Cheryl Reed (our Children's Minister at Del Sol Church) was presented with an award from
LifeWay
's Bill Banks for leading one of the top 5 VBS programs this year in our region of the country. We had some REALLY good cake and Cheryl got a super awesome hand-made boomerang: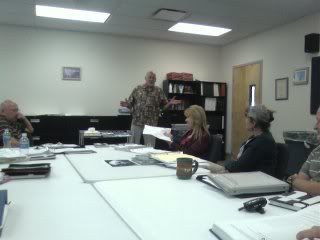 Last weekend my lawnmower and weed trimmer both gave out. We repaired the lawn mower but had to buy a new trimmer, which we did on Wednesday. This time we went with a gas-powered one (the orange and silver one) instead of another electric one: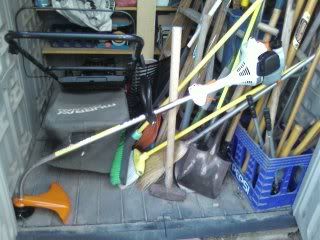 When my dad brought home the trimmer, I showed it to Bob Barker ...and as you can see, he didn't like it too much: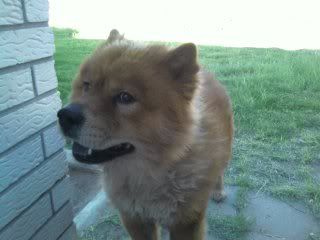 (In case you can't tell, he's pretty nervous and is opening his mouth to bark and then run away)

Awhile back I had seen this sign as I was driving around, so I stopped on Thursday to take a picture of it: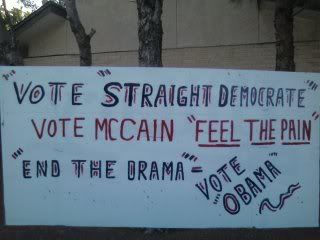 Maybe if whoever made this sign could spell "Democrat" correctly, I'd take them seriously. =)
(Disclaimer: By posting this picture I am not making a political statement about or endorsement of any Presidential candidate - I'm posting it simply because I thought it was interesting and kind of funny)
Thursday night we had the Mix at Fire Youth Ministry, and there was a group of several girls surrounding one of middle school guys, Alex Ancil - so naturally, I whipped out my cameraphone because I just had to capture this scene: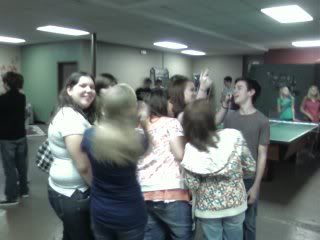 On Friday morning, I went outside and saw a sign that fall is now here - fallen leaves and yellowing grass: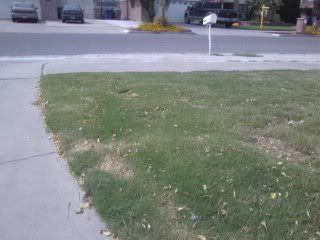 Friday night in Texas means football (of course)! I went to the
Hanks High School
homecoming game where they played El Dorado High School: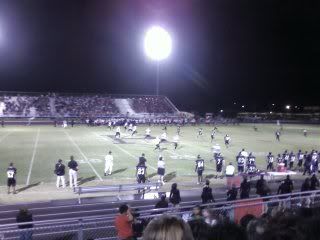 The band performance is my favorite part of football games, but since it was homecoming they had the ceremony and the honored ex this year was an El Paso firefighter.
I don't remember the man's name, but I do remember that he was in the final stages of terminal cancer and so the El Paso Fire Department sent some fire trucks and fire officials to receive the honor in the man's stead: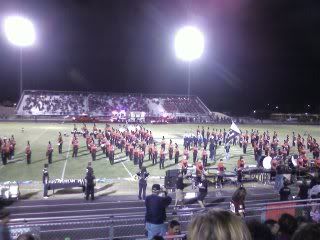 El Dorado won, but it was one of the best high school football games I've ever seen!
Finally, today after our Sunday morning youth gatherings, I found these crushed beer cans in front of the Firehouse, our youth center: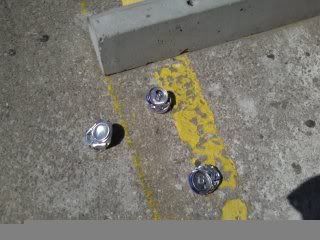 I took this picture because I thought it was really cool that geographically speaking, we at Del Sol Church's Fire Youth Ministry are not separated from culture. We're in a shopping strip with stores, a bar, and a party hall and we have to deal with the issues that come up from being right in the culture.
I like this pic because to me it represents where we're at as a church: we're trying as best as we can to be in culture without being of it. We're being light in darkness, good in evil. We're being influencers in our culture and though it's messy sometimes, it's always worth it.