- Monday night I went to Abundant Living Faith Center's Christ-mas production, which was actually pretty cool.
- I spent the day in Juarez on Tuesday with the Pryor family. It was SOOOOO windy, but we had a great time inviting people to a party, giving them gifts, feeding them, and playing with the kids afterwards. As we left, I somehow got something in my eye that took like an hour of crying to get out. It was so painful and I was kind of bummed because I thought I might have scratched my eyeball or something, but by that night it felt totally better. While it was hurting, Shannah, Kayla, David, Leah, Sarah, and Jenna were great about helping me deal with it and distracting me by telling me stories about growing up with each other.
- Wednesday was Christ-mas Eve. I slept in, went for a run, washed my car, then showered up and headed out to the Del Sol Church east campus for our Christ-mas Eve services. I was there from about 2ish pm 'til just after 9 pm. Our services were amazing: Craig and the worship/tech team were amazing, Walter did a great analogy using the Christ-mas tree, and the ushers/greeters/parking team really hit the ball out of the park.
- And I must say ...I looked pretty "dashing" in my black shirt and royal purple tie. =)
- And of course Thursday was Christ-mas Day. I slept in 'til about 11 am, then got up and watched a couple of episodes of Discovery Channel's Mythbusters, then opened up gifts when my parents finally came to the living room around 1 pm or so. Then we watched like 3 more episodes of Mythbusters until I wandered to my room and crashed for a couple of hours. It was really a lazy dog day:
(I love this pic! You really should click the pic above to see Bob Barker's face.)
I then woke up, went for a run, showered, ate dinner, and watched Hancock with my family. After that I continued my tradition that I started last year of going Downtown to soak in the lights and walk around enjoying the history and architecture of this great city of El Paso: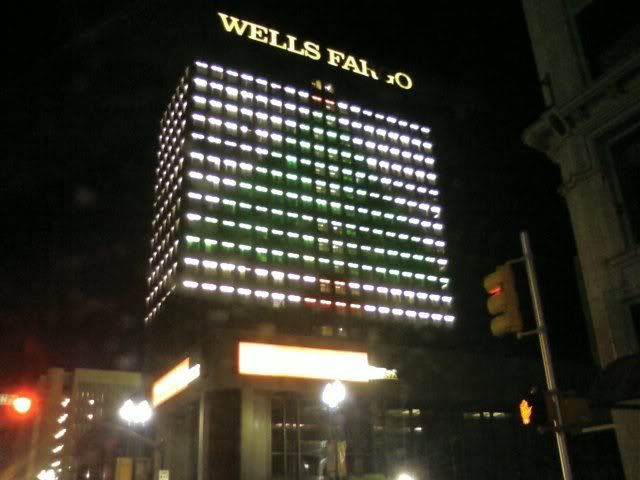 I got back to the Eastside after a little over and hour and drove on Billy Casper (a big circular drive that's on the golf course) and checked out the wealthy people's light displays. I finally arrived home at just before midnight ...and thus ended my Christ-mas 2008 holiday.
I hope you had a very good Christ-mas, and I hope that you'll be tremendously blessed in the coming year!