- So Monday was a very busy day for me - I knocked a whole bunch of important tasks off my to-do list, prepared for the first week of my GrowGroup which was on Tuesday, got some good reading time in, and talked with some other staff members at Del Sol about getting some volunteers for the NE campus working as apprentices in some ministries at the East campus.

- Tuesday was a long day. Working all day, with staff meeting in the middle of the day, then heading over to the Northeast to lead my GrowGroup at the MacKay's home. I wasn't sure if anyone would show up, and I was SUPER nervous about it, but it ended up turning out pretty well. There were 5 of us total, and hopefully we'll have several more join us this coming week. If you would, pray for my group because how it turns out is gonna greatly determine how well it looks like the Northeast campus will turn out. In other words ...there's a lot of pressure on me for this group to go well, so I'm just trusting God to do His thing here.

- Wednesday was a long day spent mostly working at the office, followed by First Wednesday that night. It was so great to hear the reports from the Spain and Slovakia missions trips that our church took this summer. I'm

really

excited about what it seems God is leading us to do in the future in the area of international missions.

- On Thursday, I went into the office in the morning and worked on a couple of projects but then spent the most of the afternoon running errands and doing research for some things we're working on for this fall at Del Sol. I also took a little bit of time to finally try out Crave out in Kern Place and do some sightseeing at UTEP.

This is the inside of Crave: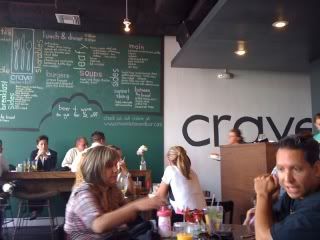 And the Sun Bowl:



The Don: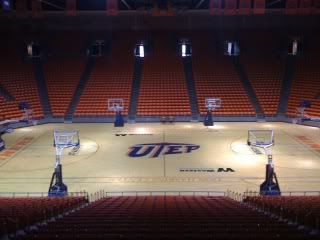 - Friday was a nice, restful day. I hit the gym, then had a nice relaxed lunch, ran a couple of errands, went for a drive, then came home and watched the movie 17 Again (which wasn't as cheesy as I thought it would be). Since Hanks wasn't playing a home game, I just went to have dinner at Chick-fil-A and then stayed home for the evening, resting and relaxing.

- On Saturday I slept in a bit, went to the gym for a nice long workout, then had lunch, did some cleaning around the house, and got ready for the UTEP football game. I went with some guys from the church and had a great time at the game (even though the Miners lost because of a bad call by a ref in the last few seconds), then went to get some food afterwards. We didn't even get to the restaurant until about midnight, and I didn't end up getting to bed 'til close to 1:30 am. Needless to say that even though it was fun, it was not the wisest of decisions.

- So this morning, it was pretty hard to wake up but I did it. Interestingly enough, my parents were listening to Andy Stanley so I didn't wake up to my alarm but to Andy Stanley's voice. Weird. I also woke up feeling pretty sick, but it was a GREAT worship experience this morning, and it was really great to run around serving, taking care of things and helping people feel welcome during the 11 am service.

- After that I went to lunch with my parents and had some great conversation with them, then came home and took a little nap. I had planned on doing yard work, but I've just been too tired from staying out so late last night. Thankfully, the office is closed tomorrow so I get another much needed day to rest my mind.