- On Monday morning I met with a realtor to look at some shopping center space that's recently been made available in the Northeast, in the Las Colinas Plaza at the intersection of US 54 and Kenworthy. We talked about some of the details and I told him that we're interested in the space as one of our options but that I'd need to talk with my supervisor about it when he got back in town the following week. These are some pictures of it: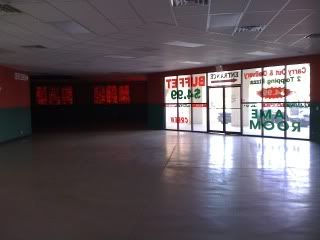 - After that, I spent the day working in the Northeast at The Bagel Shop and at Starbucks, sending out some emails and continuing to work on a renovation of the Del Sol Church website among other things.


- Most of my day on Tuesday held me being at the office, having a couplme of important meetings, doing some dreaming with other staff members, creating a preaching calendar for the Northeast location for next year, and working out details on some other important projects I'm working on. After being at the office all day, I went to the gym for awhile and got in a good workout before coming home for dinner and to unwind and get ready for Wednesday.


- Wednesday was another day spent at the office. I had some important projects I needed to get finished before the weekend (which for me starts on Friday), so I decided I needed to work at the office the whole day. So I did, then hit the gym afterwards, and went home to unwind and get ready for Thursday.


- I didn't get nearly as much work done on Thursday as I had wanted to, but I had a meeting with my accountability partner mid day that was important, so I had to postpone some of my "to-dos" until later. After my meeting, I came home to read for awhile, then went back to the office, worked some, then met some friends for dinner and then went to the Firehouse to ask a couple of people some important questions and ended up hanging around for awhile just talking with friends there.


- Friday was a very strange day; I woke up with a dark, angry funk on me. I don't know what it was, but it was nasty. Actually, I think it was a spiritual attack and it took me all day and lots of prayer to get through that. Thankfully, the David Crowder Band played that night at the Activate MusicFest, so it was a great time to worship with other believers and to focus on Him, not on me.


- Friday, my ordinary Sabbath day off, was not very relaxing so on Saturday I slept in, rested throughout the day, and went back to Activate that night. We saw Superchick and others play, and it was just a fun time with good music.


- This morning I woke up early and met my team at El Dorado High School to watch/help The River's Edge Church setup for their Sunday morning worship service. It was a great time of learning, and helped clarify some things for me. Based on what my team said, I think it was beneficial for them too. I mentioned that potential shopping space, so hopefully we won't have to be a portable church because it's gonna be really hard, but if we do, now we know some of what it'll entail.


- Afterwards I went to lunch with the Loya family and then came home and took a long nap. After that I did some updates on my iPhone and went to Starbucks for a couple of hours to read.


- When I went to the school this morning, I arrived about 15 minutes late; 15 minutes after my team. I had felt bad about that and while I was at Starbucks, I was really convicted that I needed to apologize to my team. They worked their tails off to get their on time, and it was very disrespectul of me to get there late. I should've been the first one there, not the last one. And what troubled me the most is that tardiness is become an irresponsible habit of mine; I know that because some friends of mine joked with me recently that they knew I'd be late to something because I was always late.


I don't want to be known as someone who is always late, and I think it's irresponsible and disrespectful of me to be late and expect others to be on time. So as you read this, I'd appreciate your prayer and your accountability in this area. I want to be known as being on time and even being early, not being late. I want to respect people's time by being on time all time.