- On Monday, I started a new week, volunteered for lunch at Wayside, and spent a couple of hours working at the Firehouse on our expansion:
Man, it's amazing how much garbage renovating a 1,000 square foot shopping center suite produces! This pile, which is about 4 feet tall, isn't even a third of the trash we've taken out of there: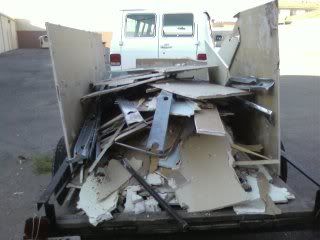 - Tuesday was the 1 year anniversary of Vista del Sol Baptist Church voting to become Del Sol Church. It was tough helping people see the need for the change, and some just were not able to come around, but in the end we have seen incredible spiritual and numerical growth and so while I'm sad that some left, I'm glad we made the decision - the right decision.
- Wednesday morning I took some of the staff out to the International Family Missions ranch out in Fabens. I had been there before, but it was great to see it again and learn even more about the needs there. They facilitate and equip families coming in on mission trips, but I think that we can help them with some of their needs at the campus. I really see us equipping the equippers.
- Wednesday was also First Wednesday Lord's Supper service at Del Sol Church. It was a great time of worship and remembering Christ's death. First Wednesday is always so humbling and centering for me; it's good to take some time to intentionally stop and remember Christ's sacrifice.
- Like 2 minutes before we started the program, Craig, our worship pastor, asked me to pray at the end of the song set. I wish I had been given more notice, but it was still a great experience to be on the main stage. I'd like to do that more often.
- Thursday was the Mix. We started our new "YouPick" message series by talking about some miscellaneous questions. This coming week, I'll be talking about the Presidential election and who Jesus would vote for. This should be good!
- After the Mix, Troy, Rick, Kristin, and I had a late dinner at Cheddar's. That was pretty cool, but what I enjoyed even more was talking with Rick and Kristin for over 2 hours after we left when the restaurant closed. We walked out of the restaurant a little after 10 pm, but we stayed and talked 'til nearly 12:30 am.
- El Paso is SOOOOOOOOO beautiful at night.
- Seriously ...it's such a beautiful place all the time, but it's so much more majestic when the sun goes down.
- I love Fridays. I love not having to rush to get ready and go to work. I love being able to just sit and watch TV, read a book, or get under the blankets and watch a good movie.
- I really did not enjoy working Parents Night Out on Friday night though. It's nice to have the extra cash, but I'm seriously thinking of quitting. After all, if Fridays are my day off, I probably shouldn't be working on my day off anyway.
- On Saturday I worked all morning on my front yard, getting it ready for the fall. I really hope that this cold will keep it from growing until the Spring, because even though I enjoy yard work, at this point I'm sick of spending EVERY Saturday doing yard work.
- I love Sundays. And
I love Del Sol Church.
- I didn't get to see the overall count today, but our numbers in the youth were wayyy down. Maybe because of the weather?
- Some Walterisms:
~ Complaining doesn't just make the complainer miserable; it makes EVERYONE miserable.
~ The hardest part is admitting you're a complainer.
~ Complaining is like bad breath: we recognize it in others, but not in ourselves.
~ Complaining makes us forget God, but gratitude causes us to focus on God.
~ Complaining is a sin because it's questioning God's existence, doubting His care, and forgetting His goodness.
~ What would it look like if we as a church exchanged blasts for blessings? If we replaced complaining with compliments?
- And wow ...Craig did a GREAT job with the worship celebration today. I totally did not expect that last song! Nice, Craig ...nice.